Blog
10L ozonated oil system and Selection of ozone gas- liquid mixing system
O3tech
2016-9-29 17:35:30
Product features

a. With inlet flow control. Ozone generator output regulation, the ozone concentration real-time online detection can accurately calculate the ozone dosage, ozonated oil concentration, precisely produced required ozonated oil concentration such as 50g/L, 70 g/L, 90 g/L.
b. Equipped with water cooling unit, it can supply cooling water continuously to the ozone generator to ensure it to cool down in a certain temperature range, so as to make sure the continuous output of the ozone gas concentration.
c. The system is equipped with an ozone gas on-line analyzer, which can continuously monitor the concentration of the ozone generator output in real time, so that the concentration of the ozone generator can be kept in a certain range.
d. Ozone off-gas destructor can effectively decompose the smell of ozone gas ozonated with oil to keep the air fresh.
e. It is equipped with oil mist filter which could ensure the full filtration of oil mis and that it does not enter off-gas catalytic system to cause fire or generate heat.
f. With automatic oil supply and automatic oil discharging function, equipped with high precision measuring cup to ensure accuracy of oil supplying amount.
Specification of PSA oxygen generator:
| | |
| --- | --- |
| Oxygen output | 20L/Min |
| Oxygen concentration %VOL | >93% |
| Power input | AC220V 50HZ |
| Power consumption W | 1300 |
| Cooling method | Inbuilt compression refrigerating machine |
| Gas inlet size | 8mm |
| Weight KG | 220 |
| Dimension | 500*260*235 |
Specification of ozone generator:
1. Configuration
a. Ozone tube 2 pieces (inbuilt hydroxyl quartz tube); 220V/50HZ
b. Ozone circuit board 2 pieces (anti high pressure, corrosion resistance, part of the components of imported, long working life)
c. High pressure pack 2 sets (the company's R & D and design of ozone generator, fine workmanship).
d. Stainless steel casing, digital display current meter, digital display voltage meter, (accurate to see the normal operating current and voltage of the machine), ozone indicator, power indicator, cooling fan, ozone concentration
adjustment knob, current transformer, relay, electric leakage switch, etc.. Structural design is reasonable, the laying of the line precision, which is very reasonable structure, so that the use of the machine is very stable and quality is guaranteed.
2. Product features: Adoption the structure of de - hydroxyl quartz tube, long life design, high concentration ozone, smaller power and volume;
3. Cooling method: water cooling; Double cooling design effectively reduce the temperature rise problem, so that the ozone concentration is higher, more stable.
4. Gas source: air source feeding
5. Cooling water flow:0.3-0.5T/H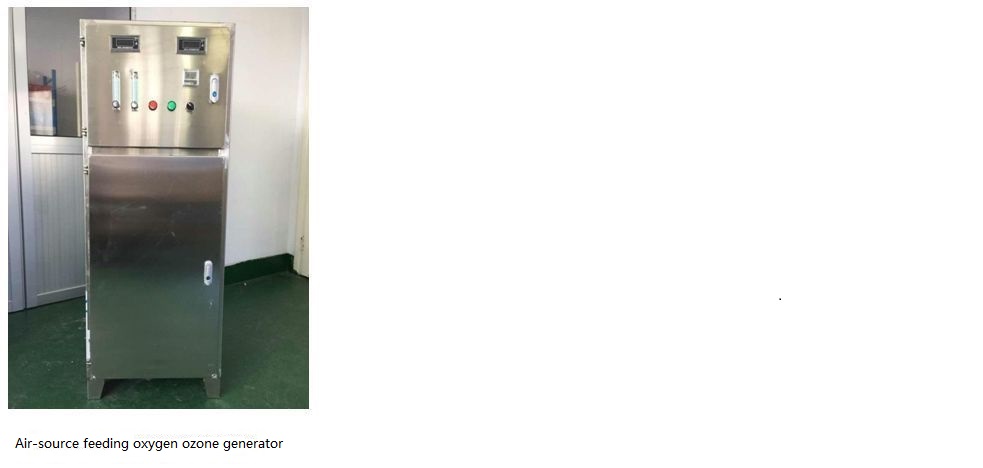 Specification of 100Grams/H air-source feeding ozone generator
| | |
| --- | --- |
| Input power | 220V/50HZ |
| Working voltage | 4.5KV |
| Ozone output | 100Grams/H |
| Working frequency | 800-1000HZ |
| Power consumption | 1500W |
| Gas source | air source feeding |
| Ozone concentration adjustment | 10-100% |
| Ozone concentration | 85mg/L-150mg/L |
| Cooling method | water cooling |
| Unit dimension | 65*55*143cm |
Electric cabinet : 304 stainless steel case
Honeycomb pipe: 316 stainless steel outer
Specification of circulating water cooling system
Product model: LS38-1500
Power consumption: 1250W
Power: 1.5HP
Cooling capacity: 3800W
Pipe diameter: 40mm
Weight: 45KG
Suitable aquarium: 1500L( indoor temperature 38℃,setting temperature 25℃)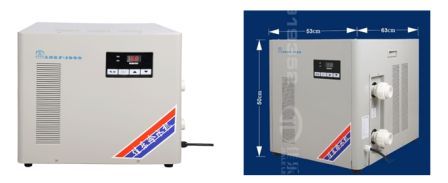 Online ozone analyzer
Specification and installation
Measure range:0-200g/m3(0-100g/m3 optional)
Display resolution:0.01g/m3
Gas flow:1.0L±0.2L/min
Input pressure:<0.1MPa
Zero drift:<±0.1%.FS(MAX:±0.2 g/m3)
Sample port size:Φ6(6mm*4mm)
Detection accuracy:±3% reading
Communication mode:RS-485;
Output mode:4-20mA,linear;
Power supply:AC 110-220V;
Size:330*230*160mm;
Note:1mg/L=1g/m3=467PPM
Note:
Stand configuration of this ozone analyzer: Main engine, waterproof connection head, water proof two way head, corrosion proof flow meter, off-gas ozone destructor
Product features:
a.According to Lambert's-Bill's law, to measure the ozone concentration by photometric absorption principle
b. Continuous on-line to measure ozone concentration (0-200Mg/L) in the outlet pipe of ozone generator
c. High precision
d. Adoption of the advanced double beam UV light source system
e. Zero calibration automatically every one hour to ensure that the equipment can run 24 hours a day
f. No ozone leakage
g. Friendly to higher pressure or large flow of ozone gas
h. Easy maintenance, simple operation, and low running cost
i. Inbuilt the light source automatic compensation, temperature and pressure compensation
Ozone gas-liquid mixing device
Technical features:
a. With automatic oil charging and discharging function; equipped with cups or containers to measure the oil charging
b. Flow meter display to measure whether there is a leak
c. Air cooling system to ensure that the temperature of the oil tank less than 100 degrees
d. With the function of water filter to ensure that the atomization of oil and gas will not directly enter into ozone destructor to cause fire
e. With off-gas catalytic function, no generation of residue ozone odor during producing process