Product
1KG/H Ozone Generator Model:OTH-OXY1000
Ozone air purifier/Ozone generator for water treatment/ Aquarium Ozone generator/ Ozonated water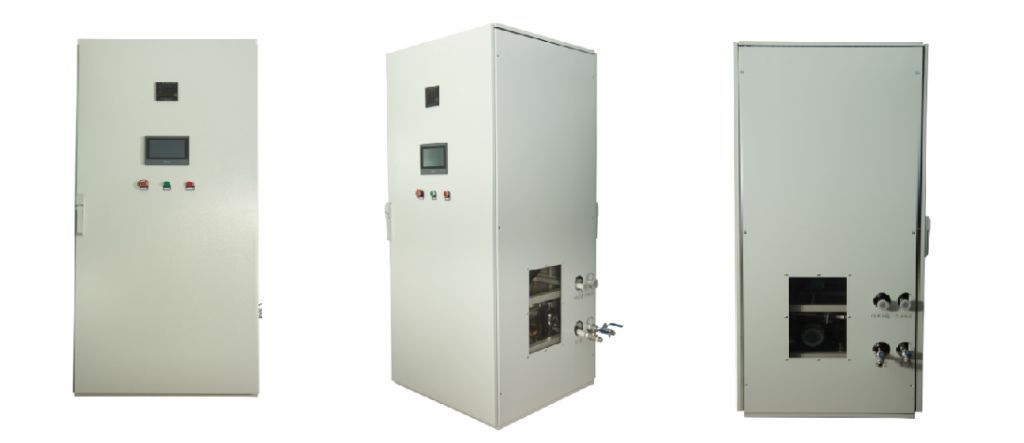 Product Features
Inbuilt Ozone cell, power supply and PSA oxygen concentrator
Modular Ozone cell (plate type)
Higher Ozone concentration (100-200MG/L)
PLC control system with the simple and safe operation
Lower power consumption (7KWH/KGS Ozone)
---The ozone generator adopts a special and advanced power supply system; So, theoperating voltage, frequency and the discharge chamber should be better. The power factor can reach more than 0.The ozone output or ozone concentration don't decrease after long time working.
Compact style
--- Adopt the high processing precision of the ozone discharge chamber and the modular structure;Smaller product dimensionto save the occupation area when installation.
Application scope
1.Apply on water treatment

Ozone generator modelOTH-OXY1000 mainly used on the different kinds of industry water treatment (drinking water sterilization, STP (Sewage Treatment Plant),waste water decolorization and etc.)
2. Apply on air treatment

Ozone generator modelOTH-OXY1000 can be used for greenhouse disinfection, large industrial sites of air purification, industrial waste gas odor treatment, etc.
Product viewand structure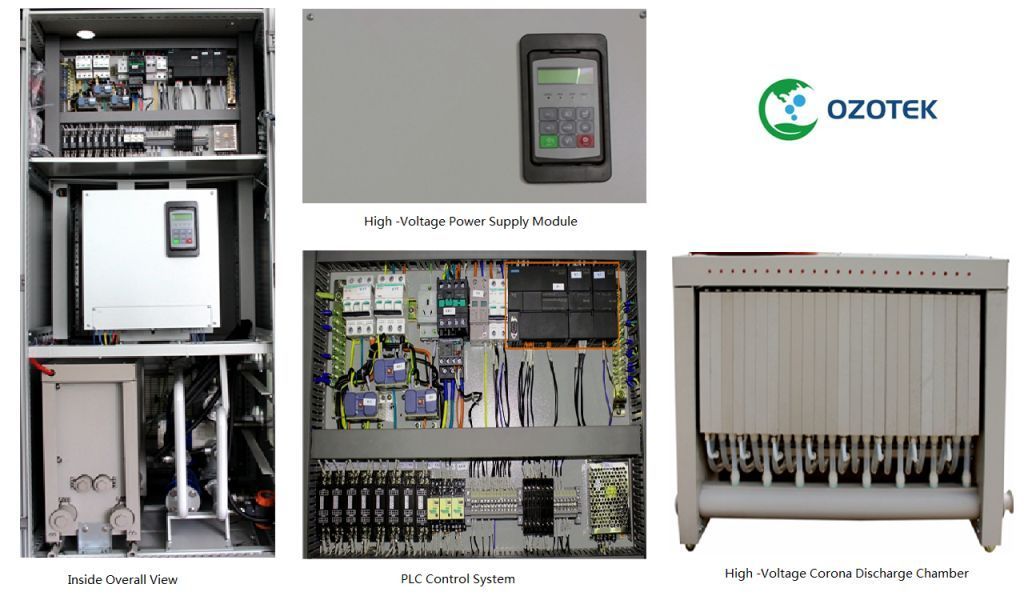 Control System
The control system adopts SIEMENS PLC& touch screen, low voltage electrical products by Schneider Inc., the field signal through the isolation and anti -interference processing into the control system. Temperature, pressure and flow signals are collected and displayed in real time, and the control system will alarm or stop when the abnormal situation occurs.Therefore, this system has high degree of automation, so the operation is convenient, safe and reliable.
1. PLC model:SIEMENS SIMATIC S7-200 SMART
2. Touch screen model:KINCO MT4434TE
3. Intelligent three-phase integrated electric parameter monitor model:HB3300
4. Emergency stop button
5. Start button
6. Reset button
Product Specifications
Product name: Ozone generator
Model: OTH-OXY1000
Ozone output: 1KG O3/H,0-100% adjustable
Ozone concentration: 100MG ~ 200MG/L
Gas source: Oxygen concentrator (PSA or VPSA or Liquid oxygen)
Oxygen concentration: >90%
Oxygen flow: 8Nm³/H
Oxygen dew point: ≤-60℃
Oxygen pressure: 0.1 MPa
Cooling solution: watercooling
Cooling water method: Tap wateror circulating water
Cooling water flow: 2.5 M³/Hour
Cooling water temperature: 10~30℃
Input voltage: AC380V/50 Hz
Power consumption: 10 KW
Equipment dimension: 1100 x 1000 x 2200mm
Equipment weight: 450 KGS (Non-including PSA oxygen concentrator)
Certificate: